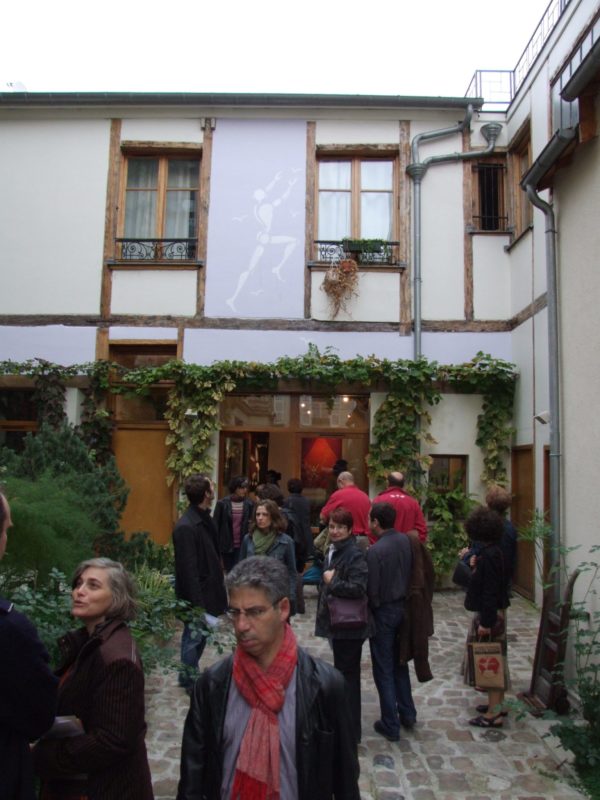 THE RUE DU RETRAIT WORKSHOP
The place and its characteristics
The workshop is located on 20, rue du Retrait in the 20th arrondissement of PARIS. It is sandwitched between rue de Ménilmontant and rue des Pyrénées. Designed to enable painting and sculpture, it faces a repaved alley and a small garden, and is surrounded by 6 vines recalling the 18th century vineyards.
A historical quarter
On the hill of Menilmontant, wines have been cultivated and quarries exploited ever since the roman period.
Ménilmontant was an autonomous township, when Jean-Jacques Rousseau would step out of it to pace along the orchards of the neighboring rise. It is here that he wrote, in October 1776, the second stroll narrated in "Dreams of a Lonely Walker"
These orchards were irrigated by the « Ménilmontant stream", flowing though what today has become a school – on number 24 of the street – and wells of which one remains in the backside of the workshop.
The main vineyard was that of the "Ratrait", which gave its name to the Passage, and then the street, linking Ménilmontant to the rue des Pyrénées.
A few rich Parisian families had already established their countryside residence: the "folies", such as of the Regnault (1540), Père Lachaise (1626), Wendôme (1686) as well as the Carré de Baudouin family (1770)…
Alongside the 19th century industrial urbanization and until 1832 appeared, on the streets of Ménilmontant, some slums and a few utopias such as the Saint-Simonien Community.
In 1859, Ménilmontant merged with the city of Paris. The windmills, vineyards, carries and fortification walls withered slowly.
It is here that in 1871, the Paris Commune saw the last massacres on the Wall of the « Fédérés », now included into the Cimetière du Père Lachaise.
The Premises
20 of the Rue du Retrait used to host presses for producing Renault's metallic automobile parts for almost one century.
This industrial wasteland has been rehabilitated into living quarters from year 2000. Today, this green space includes housing, workshop, meeting room and exhibition galleries for local and foreign artists.
The10 meter high wooden superstructure has been renovated by its inhabitants and the help of many friends, the first of which being the architect Remy CALOT.
The space is made to evolve constantly. Interaction between solids and voids, inside and outside, shadow and light, mineral and vegetal, individual and collective are the center of this evolution. Wood, being by essence sensual, warm and noble, has been given central importance.
The « Ratrait » Association :
Le lieu artistique de la rue du Retrait abrite une association baptisée « le Ratrait » – du nom du vignoble qui occupait autrefois le site.
This location is also the headquarter of the Ratrait Association that organizes, every year a diversity of cultural and artistic activities (see www.leratrait.org)